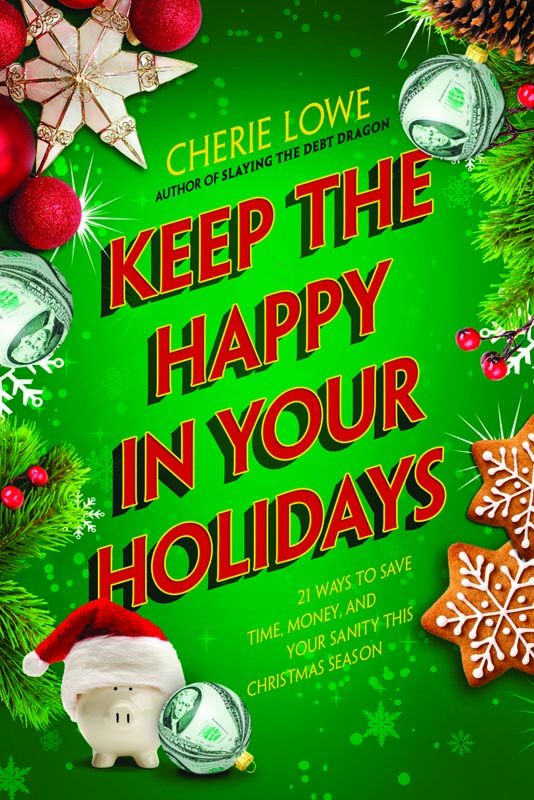 DEAL ALERT: You can get this book FREE December 1st – 31st when you pre-order Slaying the Debt Dragon. Simply e-mail momentum@tyndale.com with a screen shot or forward of your receipt and your FREE eBook (which includes a special sneak peek of the first chapter of Slaying the Debt Dragon) will be on its way in no time at all!
Releasing November 1st, 2014, Keep the Happy in Your Holidays: 21 Ways to Save Time, Money, and Your Sanity This Christmas Season by Cherie Lowe.
"The most wonderful time of the year"?
We dream of Christmas as a season of family, celebration, and worship
—but too often we get burdened with stress, busyness, yelling, and overspending.
Cherie Lowe, author of Slaying the Debt Dragon, knows what it's like to feel frazzled as the holidays draw near. A family of four trying to defeat their debt monster, the Lowe family had to get creative and intentional about keeping the happy in their holidays. These 21 tips—on budgeting, the items you should buy on Black Friday, and much more—will help you save money, time, and your sanity this holiday season. You'll be able to enjoy the holidays without worry and stress—and celebrate a Christmas filled with wonder and joy. (Includes FREE bonus printables!).
Purchase this small volume on: